This content has been archived. It may no longer be relevant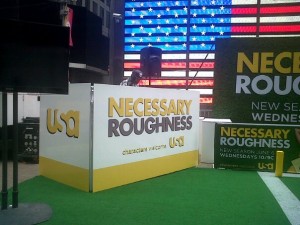 Celebrity DJ Suga Ray entertained the crowd at USA Network's Necessary Roughness Season Premier Party earlier this week in Times Square. Season Two kicked off yesterday with a new episode airing every Wednesday. Be sure to check out the video footage below!

About Necessary Roughness
Necessary Roughness focuses on a tough, sexy Long Island divorcee Dani (Golden Globe nominee Callie Thorne) who re-energizes her life and career when she becomes a therapist for a professional football team. Underestimated at every turn, she succeeds beyond all expectations and soon finds herself the most sought-after therapist for high-profile clients.