This content has been archived. It may no longer be relevant
First chill you glass as cold drink is best served in a cold glass, an easy way to do this fill the glass with ice, cover the ice with water and set aside, Next chill your shaking tin by filling 3/4 of the way with ice and set aside.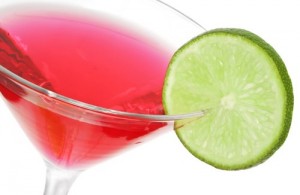 Next measure and pour the following ingredients into a mixing glass without ice as not to dilute the ingredients when blending:
What to mix:
1 ounce of Citrus Vodka
1 ounce of Grand Marnier® Brand Liquor
1 ounce Triple Sec Liquor (or treat yourself with Cointreau©)
2 ounces 100 % Cranberry Juice (if you perfer a stronger drink use 1 oz)
½ ounce fresh lime juice (about the juice of a 1/2 lime)
Pour the ingredients from your mixing glass onto the ice in your shaker and acheive a tight seal between your mixing glass and mixing tin.
Shake all ingredients well, at least 10 – 15 seconds
Fine strain into a chilled cocktail or martini glass
For other Cosmo recipes click here.