This content has been archived. It may no longer be relevant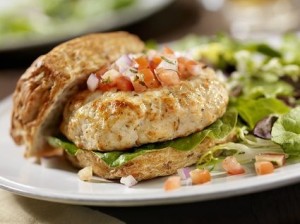 Are those greasy beef hamburgers and fries weighing you down? Here's a perfect alternative to the traditional burger, less the fries – The Greek Turkey Burger. Summer is the ideal time for slimming the waist line and heading toward 'righteous eats' ..whatever that means. Long story short, check out this great recipe below submitted by Chef Meg via Spark Recipes.
Ingredients
16 ounces 93% lean ground turkey
1/4 cup whole-wheat breadcrumbs
1/4 cup feta 
cheese
, crumbled
1 egg white
1 tablespoon chopped mint
1 teaspoon dried oregano
1/4 teaspoon black pepper
Cooking spray
Directions
Mix all ingredients until just combined.
Coat a nonstick skillet with cooking spray and place over medium heat. Divide the meat mixture into 4 round balls. Flatten the burgers with your hand and press your thumb in the center of each burger (this keeps the meat from rising too high as it cooks).
Cook the burgers 5-6 minutes per side, flipping once, until internal temperature reaches 165 degrees.