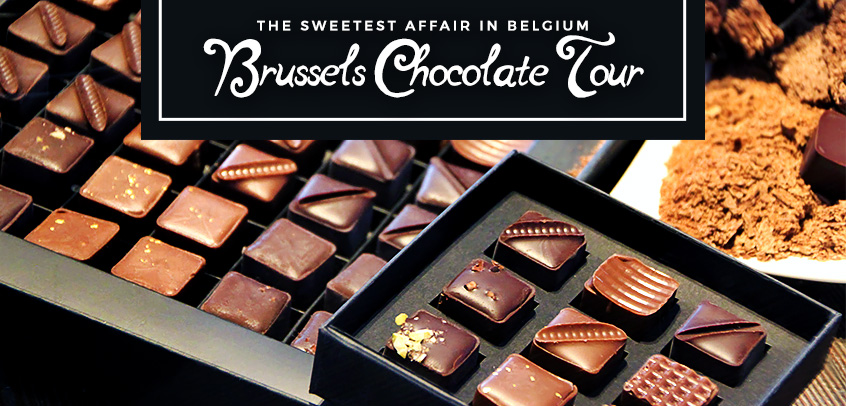 There are many travelers who have seen all corners of the globe, who are eager to tell you which places really made an impression on them. We were surprised over the last year to find out many things as people told us stories, and one of them was about Brussels. It seems that as of late, some very well-traveled folks are favoring Brussels over Paris. This surprised us, and made us want to dig deeper! A prominent writer who told us about why he loved it so much cited this incredibly awesome activity as one of the most fun tours he had ever been on. Who wouldn't love a tour deep into a beautiful city, and a chance to make your own chocolate later in the day!?
This tour begins in Grand Palace, where the guide provides a very in-depth history behind the statues and monuments that make Brussels the amazing destination it is. Chocolate experts with more than 15 years of experience are able to make you understand on many different levels why this city is truly known as the master of making chocolate. You'll be shown where the top brands are, and the guides will let you know their personal favorites: this will really help if you are looking for the ultimate gifts to take back home with you. The Royal Galleries, Royal Palace, and Saint Paul Cathedral are all stopped at during the guided tour of this city that will sweep you and your significant other off of your feet.
You will be taught in-depth about the melting temperature, the process of praline-making, and the amount of darkness suitable for different types of chocolates. Also giving you the liberty of decorating with sea salt, sesame, or even exotic fruits, you can use whichever inspiration drives you the most from the tour in the final creation session. There is a maximum of 20 people per tour group, and you can expect quite a bit of walking. Rest assured that the Belgian chocolate is mind-blowing: it is made with cocoa butter instead of palm oil, and you will visit the most exclusive chocolate boutiques in the city during this adventure.
This is a true renaissance city with tons of things that will get the inbound explorer excited: it's not just chocolate that you can see here! Although we think that this would definitely be one of the premiere attractions, there are also pub crawls, The "Little City" tour, and many hop-on, hop-off guided bus tours. A very recognizable "Atomium" is probably the most popular attraction here, and symbolizes an ion crystal that has been magnified 165 billion times. Restored in 2006, the panoramic view alone is well worth the trip. Another great activity that would pair well with the chocolate tour is The Brussels Waffle Workshop, where you can learn the finer points of making these delicious treats in about 90 minutes. We hope that you indulge in the dark and tasty goodness that is such a staple of Belgium: this guided tour and the entire city will unforgettably bowl you over with charm, unique flair, and taking in some of the most spellbinding architecture on the entire planet.