This content has been archived. It may no longer be relevant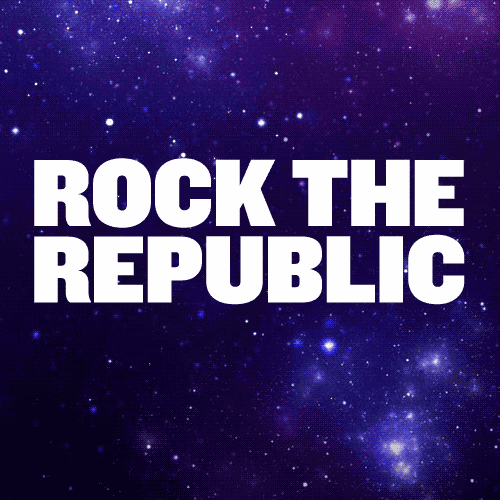 By Brian Bowers
Recently, Hypursuit was able to converse with Steve Sargent, one of the integral components of the annual Rock the Republic Concert Series and Festival held in Bryan, Texas. Sargent along with a number of individuals including Cody Bailey, Roby Fitzhenry, Matthew Trailer and Jon Wesley have created an elaborate concert production of varied music, passion and spoken word they hope will continue to raise the bar in the years to come.
Steve Sargent: My brother and I came up with the idea for the event 2.5 years ago. We grew up in a very musical family. Mother was a musician at a church, father a pastor–I'm sure you have heard this story before. My brother was playing SoulEver Lift, which is a funk band. I've been doing slam poetry and spoken word for the past 6 or 7 years. So, we both were kind of big fans of each other's things and going to music events and poetry events…so, we said how about we come up with a way to combine both of these things. We could have the best up-and-coming music and the best spoken word in the state of Texas, so we came up with "Rock the Republic"…only Texas Artists get to play at this event.
Brian: How hard was it to get funding and venues…etc? Sometimes that can be rather challenging.
Steve Sargent: The venues weren't hard to get. We knew bar owners. We've been promoting and putting on shows for a while. Funding was the difficult part […]. Nothing like this had ever happened in Bryan, Texas before. We were telling people we were going to have a big giant Rock event and it was going to be amazing…But, no on had heard of that in Bryan.
Steve Sargent: Cody Bailey, Roby Fitzhenry, Matthew Trailer, Jon Wesley [and myself] came together to organize everything. We did press releases, designed websites, flyers, everything. Booked venues, artists, all the poets, bands. We did everything..
Brian: Wow. That is really impressive. It almost sounds like something people would hire consultants to do specifically.
Steve Sargent: […] we had experience. I've done poetry events before. I've done political campaigns. My brother had been booking bands and these other great guys had been doing graphic design and websites before. We had never done events like this before, but we had the built-in skills to do it.
Brian: In terms of genres in the music industry, is this rock specific?
Steve Sargent: No. The music at the event…we feature rock bands, hip-hop groups, Americana–pretty much everything. It was more rock based, but the point was good quality music for up-and-coming Texas fans.
Brian: And this is going to stay in Texas? Do you see it becoming something national or getting larger in the future? Maybe something that expands, tours…etc.
Steve Sargent: The event itself, we want to keep it in Downtown Bryan. Keep making it better and better every year and drawing more and more people to it. We do promotional shows, in other cities. But in terms of the main show, we plan on keeping that in Texas…and in Bryan, Texas.
Brian: So, the event itself. I mean, I'm pretty curious about the demographics of the event. Are these college students, since it's a college town sort of place? Are do you get a diverse group of people. You know, a pretty varied crowd maybe?
Steve Sargent: We are in downtown Bryan, which is the city where Texas A&M is. So, in a sense…I guess it is targeted towards young people. But truly, anyone who loves music. Last year, most people were 21-35, but there were older people too. Anyone who loves good music, poetry and art.
You go to alot of music festivals, a band plays for 20 or 40 minutes…one of the major features of our production is that all of our bands are concert length performances–60 or 90 minutes. We really want to feature these bands and allow them to show what they can do.
Brian: Do you get sponsors from labels and traditional industry 'types' so to speak?
Steve Sargent: Our sponsors have been more community based business. Lone Star Bear, Red Bull and local restaurants and bars made up the majority of our sponsors last year. We've kept it more local…we do have, you know Scion Toyota.
Brian: I'm guessing I am just wondering…do people from the industry come to scout or recruit. Perhaps even just take a look at the talent that is available?
Steve Sargent: I'm sure there are…I wasn't aware of it, last year. Last year, it was really kind of overwhelming. We planned this thing. Five guys put it together initially…then another 20 helped out. Then, we had about 100 volunteers spread out around town. I wasn't specifically able to focus on whether agents or scouts were there. Everything ran smoothly, the bands had what they needed, the sound people, stuff like that. I'll probably be able to participate more and enjoy it this year last year…last year, it was 3 days, and during that time I might have seen one show.
Brian: Sounds pretty intense overall!
Steve Sargent: Oh yeah, but we've got a lot more help this year.
Brian: Do you have any creative minds or musicians that inspire you? This has less to do with the festival and just you as a creative individual yourself.
Steve Sargent: Might sound trite, but Michael, Prince…etc, my taste is eclectic, yet traditional in the sense that I am into the old school stuff–Michael, Prince, James Brown…etc. My favorite band in Rock as far as right now is called TV on the Radio.
Brian: How did you discover them?
Steve Sargent: Looking through spin magazine. Then, I read the article, bought the album. It was amazing and started supporting their music.
Brian: And so in the future, where do you see you all going with this?
Steve Sargent: We want to stay true to our roots. We want to continue to get the best up-and-coming bands in Texas. Very few if any are signed. The types you see are on the precipice of blowing up and or going nationwide.
Example, Jonathan Tyler and the Northern Lights…they were featured this year on the Jimmy Kimmel Show. We had a group called the Black and White Years who had a feature on Kanye's blog. We had a hip-hop group called Black Listed Individuals who are out of Austin…these are groups starting to get a lot of attention. They haven't completely become household names yet, but they are going to be.
Brian: So you all, you serve as a place to get a lot of momentum and build steam?
Steve Sargent: Well…um…we'd like to say that. And just, also exposing this area to different types of music, as well as exposing a lot of bands to the Bryan-College Station music market. A lot of people haven't toured in Bryan and College Station. People do want to hear Rock here and Hip-Hop and so on.
Brian: If there was one legacy you want Rock the Republic to leave behind, what would that be? You can only use a phrase. I normally say a word, but I'll give you a phrase. It's a difficult question on purpose.
Steve Sargent: I think…um…one phrase…The best Texas music and arts event: Rock the Republic.
Brian: Well, Steve, Hypursuit definitely appreciates you taking the time out of your schedule to grant us this interview time man. We really appreciate it.
Steve Sargent: Tahnk you too.