This content has been archived. It may no longer be relevant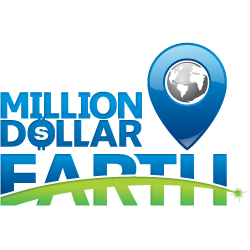 In the competitive world of traditional advertising Million Dollar Earth delivers an innovative approach to reaching the consumer audience.
Million Dollar Earth is an advertising medium allowing businesses to own digital real estate and display their social profiles. We had a quick Q&A with Entrepreneur and one of the company's founders Ryan Hart and here's what he had to say about Million Dollar Earth.
Q) Right now you have 1000 cities worldwide available on Million Dollar Earth. Do you plan on adding additional digital real estate for purchase?
A) Scott and I added the "suggest a city" feature a few weeks ago which has brought a flurry of suggestions. It has been a fun lesson in geography.
Q) How do you think the Million Dollar Earth platform will impact online advertising for businesses?
A) Interactive advertising is only the beginning. Million Dollar Earth will show businesses and their customers that marketing can be more than just banner ads, with Million Dollar Earth marketing has become an experience. You can build a relationship through twitter and facebook while pitching them your latest idea or message via a youTube video or advertisement linked to your website. On top of the fact that you actually own real estate and you can associate your brand with a City. You own a relationship with your consumers. You have interactivity.
Q) What benefits can a digital real estate owner expect to gain from Million Dollar Earth?
A) City owners posess a personalized relationship with their online audience. Aggregating their media channels unifies their message, all the while enjoying the potential of turning a profit on their City as the website becomes more popular.
For more information on Million Dollar Earth.