This content has been archived. It may no longer be relevant
Pop artist Amarachi is making quite the buzz with her new single, "Today I Feel". Released earlier this month on iTunes, "Today I Feel" is a popsy sounding anthem based on: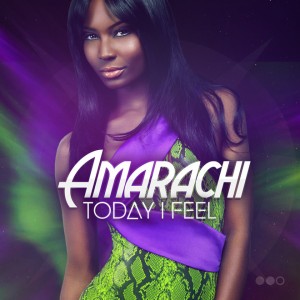 "The concept of Today I Feel came from a guys perspective about how women feel on certain days", says Amarachi. "It's a catchy, fun anthem that every woman can relate to."
About Amarachi
Born in Lagos, Nigeria, Amarachi spent the first years of her life in Nigeria before moving to United States in 1996 and finally settling in Houston in 1998. Unfamiliar with the American culture Amarachi remained quiet and reserved. Keeping herself occupied by reading and participating in sports while in school she began excelling in track & fieldgaining the attention of many colleges and universities. With a life long dream to compete in the Olympics, a career in track & field seemed inevitablebut Amarachi also enjoyed singing and songwriting.
She recalls, "I was in junior high when I joined a choir. It was then I knew I wanted to go further with a singing career. I went through high school knowing what I wanted to do but really couldn't do it because my parents strongly encouraged; go to school, graduate and get a nine to five."
After graduating high school at the early age of 16, Amarachi spent two years in college on track scholarships before eventually dropping out to pursue a music career but there was a detour along the way. And as fate would have it, modeling would take precedent over her music career as fashion designers Spasso, TikiGlam, Tropicouture amongst several recruited the 5'8 slim framed beauty for runway shows and to be the face of their brand. She also credits her confidence as an artist from working in NYC's competition modeling market. After a brief stay in New York, Amarachi returned to Houston and started on yet another journey.
She begin writing material and performing live acoustic sets before finally stepping into the studio with the renowned production duo The Bama Boyz and Joshua Coleman to record her debut project.Slated for release Summer 2012 the debut EP will feature highly energetic tracks aback Amarachi's rhythmic vocals showcasing her ability as a songstress with a few melodic tunes in between. "This EP is about me and the different takes of me and what I've been through and what I've seen others go through," she says.While her music boasts originality she's often compared to and categorized with Amy Winehouse and Toni Braxton.
Check out the acoustic version below: