This content has been archived. It may no longer be relevant
Here's an emerging new artist to be on the look out for. After checking out his mixtape, "The Popular Kid" we're looking forward to great music from Noelz.
The artist known as "Noelz" [pronounced No-Elz] is a 22 year old song writer / rapper / singer, coming straight out of Chicago, IL. With his advanced song writing skill, sharp rhyming/delivery presence, and smooth singing style – he is destined to be the next big thing for the new generation.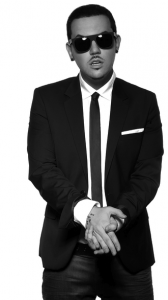 Born on December 31st, 1989, his passion for music started when Noelz was a small child. Receiving a small electronic toy piano with built in drum patterns as a gift, Noelz would play on this keyboard (while having the beats on repeat for hours) showing that he had a genuine love for music. Later on in life, Noelz started to record himself on a cassette player to show his friends, which then lead to full songs beings written as a main hobby.
Pushing forward, his work soon resulted to catching ears of higher ranked individuals. Grammy award winning producers, Cool & Dre, vouched for Noelz (on camera) in 2010 saying his material was undeniable and full of potential. Lenny Santiago (Def Jam), Ant Rich (Jive Records), and Octavius Crouch (Universal Records) also gave positive feedback to the material they were presented at different face to face meetings with Noelz. With his collaboration list currently holding such names as Kid Ink, Jae Millz, Tory Lanez, Rockie Fresh, BJ The Chicago Kid, Jahlil Beats, and others – he has achieved more in just a few short years than most can ever dream of.
Now, after a year in the making, Noelz has released his debut project "The Popular Kid". Telling various stories from his drive for success, rekindled childhood memories, and growing up in the beautiful city of Chicago – to his troubles with school, tainted friendships, and stressful times from the pressures to be "famous" – Noelz speaks from his heart on this project to tell his unique story.
With a focused team beside him, and a loyal fan base that expresses nothing but support, this young & talented artist is propelling into stardom and living out his ultimate dream. Noelz believes in himself now more than ever, and he's ready to turn the world into strong believers as well. Follow him on his Road To Popularity…