This content has been archived. It may no longer be relevant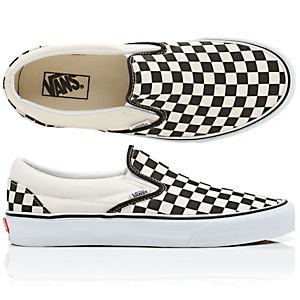 Contributor Jon Weirman
If Jeff Spicolli from "Fast Times at Ridgemont High", was hitting himself in the head with them, It's as legendary as The Clash or Tony Hawk himself.  Like bricks put on a concrete embankment to keep skateboarders away, you can't get past how cool they are.  And people want them.  Lots of people.  Tony Alva, the original pool coping shark, and Stacy Peralta, industry legend, were influential in development and design, and in 1976, the Skate Hi was introduced, that had padded sides so skaters wouldn't get maimed by their boards flying back down the pool at their feet when they bailed off of the board mid trick.
The first true day of business for the factory is thought to be the first of March, 1966, and outside of Anaheim in Costa Mesa was where the flyers were passed out for the first time reading "Tell a friend about Vans".   In the late 70's, they noticed that kids were ripping the side off the shoes and coloring it in checkerboard pattern by hand.  Taking note of that was perhaps the smartest thing Vans ever did, and came up with the slip checkerboard style, which even up against the black old school… could be the most recognizable Vans shoes ever made.  Running promos where consumers would draw by hand what they wanted to see on vans shoes, they really reached out to the buyer's imagination.  If someone's design was selected, they would bring the family out and take them to Disneyland.  There's not really any icon more Anaheim worthy to visit than that.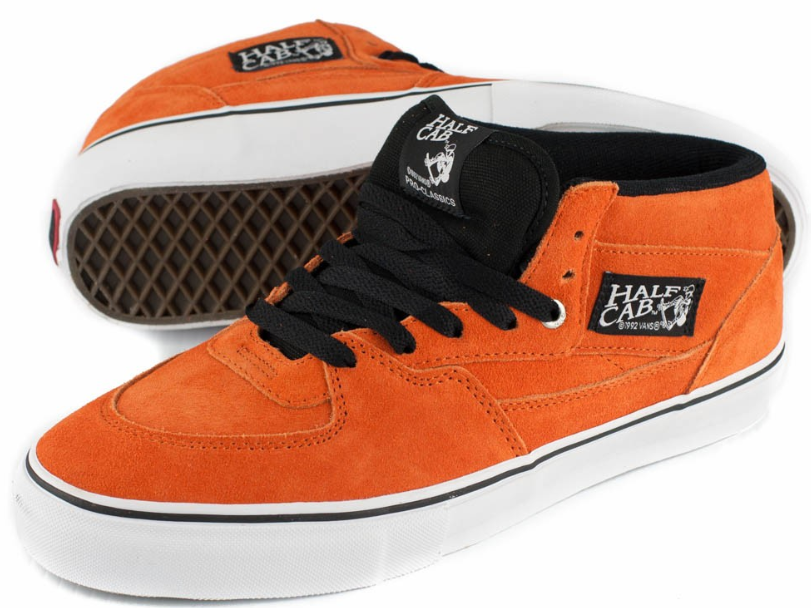 One design that is popular is the Half Cab pro, with stitching going a few different directions in Black, Charcoal, and Blue.  Steve Caballero is one of the most influential skaters of all time, and was in the legendary band "The Faction".  Old skate rock from about 1982 to 1988 was as good as it gets, and there is just nothing that even compares.  Bands like JFA, Gang Green, the Adolescents, Agent Orange, and the Drunk Injuns were on every mother's hated list and every skater's most wanted list.  Pushead, the gloriously graphic illustrator from Thrasher magazine was drawing up some very dark, horror movie looking characters and the Skate Rock crowd was eating them up.  In 1986 there was a picture of a ghoulie looking character grinding a curb on a skateboard that was just legendary "I've got my middle finger extended" beauty.  I kept that issue in extra good condition since it represented so much more than a quick grind on a curb.  Riders like Christian Hosoi, Gator, Chris Miller, Steve Steadham, and Neil Blender were taking vert ramps by storm and all over the nation people couldn't decide whether they liked street or vert skating better, with creative riders like Mark Gonzalez and Mike Vallely, and Natas making some insane video parts that were watched over and over.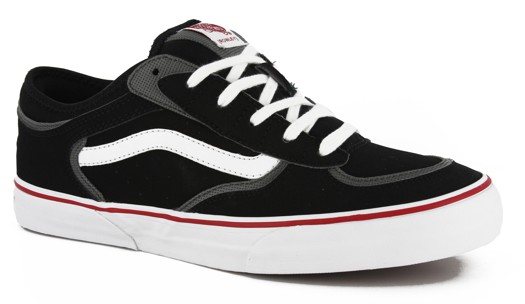 The Rowley pro ­is a lower cut but incredibly popular Vans shoe.  The black and red being the most popular, I owned a few of these myself.  The Vans Old Skool original "waffle" outsole is available in blue and black.  The TNT 5, the model from outlaw bandit Tony Trujillo, has got Pro Vulc construction, the waffle outsole, and also has a great black and white checkerboard design.  Tony was skateboarder of the year in 2002, for Thrasher magazine, king publisher for the outlaw riders.  He is a legendary longhair and Motley Crue is his favorite band.  Involved also heavily with "Antihero", it is all about tall boy beers, riding off large buildings and raising hell.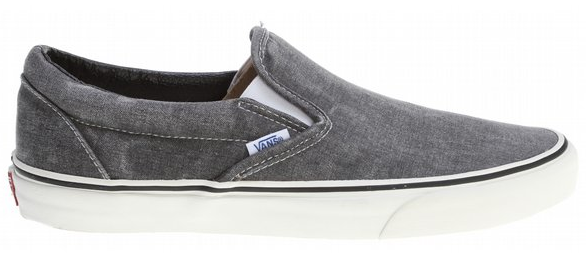 The original classics and classic slip on shoes remain popular, and the classic slip ons have the trademark top that curves in on the sides right before the start of the laces.  The 106 Vulcanized and 106 MOC shoes are a lower cut shoe than the old school and comfortable for lounging or wearing out, not designed specifically for skateboarding but still symbolic and hip as hell.  In the authentic line, the love me x stands out as a design as well as the leopard authentic, both would be great gifts for Valentine's.  The Authentic Hi product line is a snug fitting still popular line that is similar to another popular shoe that we won't mention, because we all know, like the Lords Of Dogtown skaters themselves, that Vans is King of the deep end of the ditch, or skate bowl.  Speaking of kings, Metallica even has a half cab shoe model available and that's nothing to chuckle about.  That's a serious issue, almost a commandment, like the riffs from "Kill em' all".
Sandals are more popular than ever and so comfortable on the beach or when you want the breeze to flow on your feet while you loaf or flop around.  The Vans lines of Thresher and Lanai sandals are as sleek as a new break off a rocky shore, and the slider sandals have a very comfortable arc down towards the front for contouring as you walk and relax.  There's nothing like feeling the sand flow gently through these, and when choosing a sandal you have to be thorough, Vans is a hot prospect for your final choice.  There's even a Rasta style slip sandal for your visit to the Caribbean Islands with a great curve upwards in front like the Nexpa sandal.
You can pick up a sandal at your dollar store or discount merchant, but there's nothing like sporting a pair of Vans where the action is heavy and folks are really taking notice of your gear.  In short, this legendary brand has been going strong for awhile.  Even though there have been many changes in the industry, skateboarding and beach culture have a certain old loyalty that is reminiscent of a dirty punk rock amp warming up with some chords or 720 degree airs being performed on a halfpipe.  In your next quest for footwear, choose Vans.  Because there is nothing like being seen with a classic.  It's really the only way to put it.