The Northeast's Hospitable Hotspot: Checking out the Charms of Portland, Maine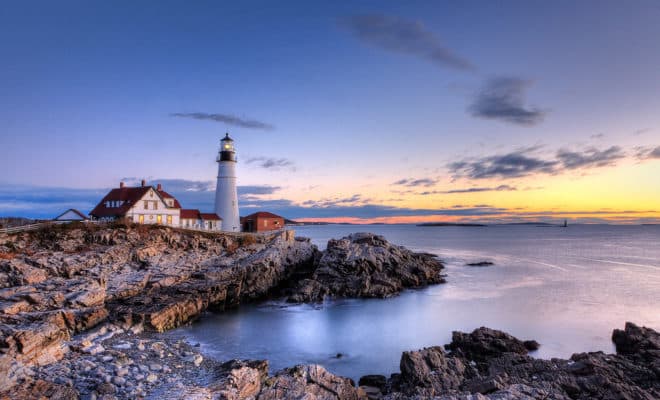 When folks think of Maine, they think about things that are not necessarily the top or most attractive elements of what this state really has to offer. Brutal winters consisting of deep snow, a reputation for having some residents who are delightfully weird, and a general sense of isolation are what Maine used to be known for. While we admit that the seasons do change here and it's a bit different of an environment to swallow at first, this is a place that is now a very popular culinary destination, where visitors can do awesome things such as visit the Old Port and the Arts District. First Friday art walks here are as awesome as anywhere else in the nation, but have a quaint cobblestone quirk to them, and visiting here makes you feel as if you are in a painting yourself.
The scenery is a bit timeless: the skinny shop fronts, ships slowly sailing in with catches of lobster, and lighthouse vibe does not feel much like the high-tech meccas of Denver and Seattle, where many modern offices glisten in skyscrapers. But what's important here is the same raw talent of coders and developers, designers and artists, exists in Portland, with more remnants of yesteryear around. Romantic? Hell yes! Remember, this is where the leaves glisten and turn majestic colors during the fall, and it's a perfect place to hop up to if you have already done the big city tour of Boston with your significant other.
Portland is just a two-hour drive from Boston, and feels a bit similar, but is where you can feel the life of fresher air, talk to strangers more freely, and enjoy hiking through areas that are less populated. Many young and avid minds that come to visit here decide to stay, lured by artistic learning venues such as the Maine College of Art, which offers undergraduate as well as master's programs in the fine duty of creation. Some people come up here with wanderlust and feel as if they have met the town of their dreams, once they see the rooms full of students in art classes painting the boats that are harbored in the bay right out the front window. Yes, there is hardship here. Times where one may be forced into a bit of solitude, for better or worse.
You can take a drive up to Portland Head Lighthouse, that has been situated in the same stoic location since 1791: whale oil lamps were the primary source of light back then, and this area was still part of the state of Massachusetts. It stands 80 feet above the water, and many have said it is simply the most beautiful lighthouse location they have visited. This place is not like the beaches of Ft. Lauderdale, where the palms line the streets and the fine-toned bodies glisten with sweat. Because of this, many wonder what the allure is here, especially for the young singles scene. Awesome microbreweries, nearby wilderness areas that rival the intensity of Colorado and Montana, and business owners that have their roots deeply engraved in every single endeavor are fueling travel here in a drastically upwards pattern.
Foodies will flip out when they see their options here: Hot Suppah is a very hearty Southern Fare, that dashes a Mainer twist on comfort foot. Street and Co. is a place in a very snug setting where you can acquire amazingly fresh fish, and is a bistro that is as charming as anyone can imagine: you almost expect Paul Revere himself to come trotting down the cobblestone street on a horse. Eventide Oyster Co, Central Provisions, Five Fifty Five, and the Back Bay Grill are just a few of the other popular spots here: sampling something like Lobster mac n'cheese should not be missed during your stay here. If you have had enough of the big city but do not want to whittle your vacation down to the small-town vibe, Portland is not going to disappoint: come and see for yourself how strolling down Congress Street or enjoying the views in Cape Elizabeth will speak to you in volumes.