3 Sugar-Free Sensations to Try this Holiday Season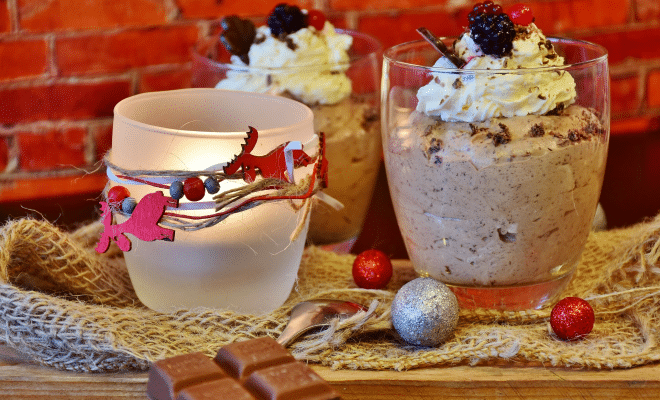 It's Christmas once again, and for most people, it's the perfect time to throw caution to the wind and indulge in no-holds-barred eating filled with mouthwatering cakes, cookies, chocolates and candy. While this can be the perfect time to forgo healthy eating, many of us will surely deal with the consequences later.
Here's the thing, you can create easy and delicious sugar-free desserts that are just as indulgent as those made with real sugar. You can get your sugar fix and you don't need to deprive yourself with these yummy recipes:
Sugar-Free Chocolate Rum Truffles
Your sweet tooth will thank you for this luscious all-time favorite candy! It's made with rich, dark chocolate and heavy cream but without any processed sugar. A splash of rum adds a pleasant boozy flavor.
Ingredients:
300 grams dark chocolate, unsweetened
4 tablespoons, plus 4 teaspoons heavy cream
1 teaspoon vanilla extract
2 1/2 teaspoons rum
For rolling:
1-2 cups finely chopped nuts or toasted coconut
Directions:
Melt chocolate in a double boiler.
In a separate pan, heat two tablespoons heavy cream and vanilla almost to a boil.
Turn off the heat.
Add heavy cream, vanilla, and rum.
Allow mixture to temper for 5 minutes.
Pour the mixture into a small bowl and cover top with plastic.
Chill the mixture overnight.
Remove hardened ganache from the refrigerator and allow to set at room temperature.
Using a fruit ball scoop, form equal amounts of ganache into balls.
Roll the balls on finely chopped nuts or toasted coconut.
Serve and enjoy.
Sugar-Free Avocado Chocolate Mousse
This dessert is such a sweet surprise because you won't taste the avocado at all. Plus, the avocado creates a really creamy texture that adds richness to the mousse. Even better, the ingredients are simple and the recipe is easy to do.
Ingredients:
4 ripe avocados
1 cup coconut cream, chilled
1/2 cup raw cacao powder
2 tablespoons chia seeds
4 teaspoons rice malt syrup
2 teaspoons vanilla extract
1 teaspoon ground cinnamon
Salt
Directions:
Blend all ingredients in a food processor until smooth.
Scoop the mousse into attractive cups and chill for two hours.
Serve and enjoy
Sugar-Free Berry Sorbet
After all the eating, this fruity sorbet is the perfect dessert to cleanse your palate. This will surely be a hit among those looking for something light.
Ingredients:
2 cups Splenda Granular
2 cups water
3 cups frozen blueberries, thawed
3 cups frozen blackberries, thawed
1 cup frozen raspberries, thawed
1 cup heavy cream
Directions:
Dissolve Splenda in water.
In a food processor, whiz berries until smooth, adding water gradually.
Pour in cream, and mix until blended.
Pour mixture into ice cream machine and let freeze until mixture is very thick.
Serve and enjoy